Bleu
Discover Cannes destination
Le Cannet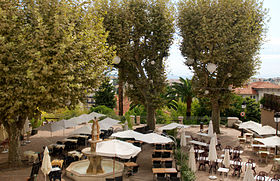 Equipements Informations
With its gently rising hills, Le Cannet has a panoramic view from the Lérins Islands to the Estérel Massif. You will discover pleasant walks among pines, olive trees, mimosa, orange trees and eucalyptus. Le Cannet benefits from a rich cultural and artistic heritage, thanks to its museum dedicated to Pierre Bonnard, Notre-Dame-des-Anges and Saint-Sauveur chapels (decorated by Tobiasse), the church of Sainte-Catherine, Peynet's 'Mur des Amoureux' and Vieux-Cannet (the old town).
Type bordereau:

Patrimoine culturel

Mail: tourisme@lecannet.com
Dernière mise à jour le: 02/04/2018
Prestataire, il s'agit de votre établissement ou votre activité ?
Cliquez sur ce bouton pour savoir comment mettre à jour vos informations.